Saturday September 16, 2023 at 8:00 pm CST
Riverbend Center for the Arts
4214 N Capital of Texas Hwy, Austin, TX 78746                                Directions
         JOHN MCLAUGHLIN lead guitar
         ZAKIR HUSSAIN tabla
         SHANKAR MAHADEVAN vocal
         GANESH RAJAGOPALAN violin
         V. SELVAGANESH ghatam percussion
… special appearance by Bluegrass legend BELA FLECK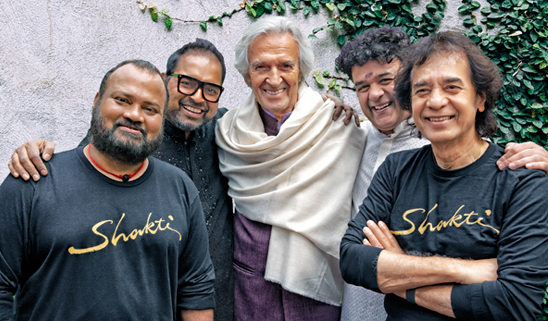 For Ticket holders – Some Important Information:
Please arrive as early as possible – even an hour ahead of time! After the opening act begins, the auditorium doors will be closed.

You must bring your tickets along with you (either printed or on your cell phone).

The doors to the auditorium will open at 7 PM and the show will begin at 8 PM with a 40–45 minute solo by banjo maestro, Bela Fleck.

Shakti will start at 9 PM and run 90-100 minutes. There is no intermission between the Bela Fleck solo and Shakti.

All seating at Riverbend, other than a few handicapped seats, are bench seats. You will have ample seating space but no armrest.

Please do not bring large bags to the auditorium. Small purses that fit under your seat are fine but nothing larger is permitted. Riverbend does not have a coat or bag check.
Driving Directions and Parking:
For southbound vehicles, there are entrances to Riverbend Center from Rte 360. For northbound vehicles, please use the Cedar Street entrances.

Please note that there is ongoing construction work on Rte 360 but there will be parking attendants directing traffic into and out of the Riverbend Center.

Please plan your arrival with additional extra time in mind.
Pre-Event food for purchase:
There will be a variety of delicious light Indian snacks and non-alcoholic drinks available for purchase in the courtyard just outside the auditorium.

An outside caterer, Indian Summer, is offering samosa chaat, veg Hyderabadi biryani, pav bhaji, kofta, chicken, mango lassi and fresh lemon juice at reasonable prices. Please enjoy this opportunity to enjoy their excellent food and fill up before the show!

The food booth will be open from 6 PM to 8 PM. No food or drink (other than water) is allowed inside the auditorium. 
Mobility and Handicapped Needs – Other special needs:
The venue is equipped with accessible entrances, restrooms, and seating areas to accommodate guests with mobility challenges.

Accessible parking spaces are available on a first-come, first-served basis. If you require assistance for accessible parking or directions, please look for our uniformed parking attendants who will be happy to assist you.

If you are in a wheelchair, please let us know at the front desk and we will have volunteers escort you to your seat.

To ensure a smooth entry, we recommend arriving at least an hour earlier before the event's start time. This will allow ample time for parking and accessing the venue comfortably.
Ticket prices range from $35 to $500 and are all assigned numbered bench seats. Handicap seating is available.
Discounted 2024 Membership with Shakti Ticket Purchase
If you buy a Shakti ticket for $100 or higher, you are eligible for a 25% to 100% discount off ICMCA's 2024 Annual Membership fee and you can enjoy
six or more outstanding concerts next year

at a substantial saving. Please click "Interested in Membership" when you're buying tickets and ICMCA will email you with discount details.
TITLE SPONSOR ($500) includes
2 seats located in the $150 zone

+ free ICMCA 2024 Family membership + your logo displayed on ICMCA website and pre-show presentation
GOLD SPONSOR ($750) includes
2 seats located in the $250 zone

+ free ICMCA 2024 Family membership + your logo displayed on ICMCA website and pre-show presentation
DIAMOND SPONSOR ($1500) includes
2 seats located in the $500 zone

+ ICMCA 2024 Family membership + your logo displayed on ICMCA website and pre-show presentation + a chance to join the artists in an exclusive sponsor-only dinner!
Please call Purplepass Ticketing Helpdesk at 1-800-316-8559 for any technical help with their site.
An unprecedented, transcontinental collaboration, Shakti united eastern and western musicians, and in the process forged the template for what is now called "world music."
From the West came virtuoso British guitarist JOHN MCLAUGHLIN, who re-wired jazz via his work with Miles Davis and the Tony Williams Lifetime.
From the East came visionary tabla player ZAKIR HUSSAIN, who had accompanied legendary Hindustani musicians from adolescence.
A music shop owner in New York City's Greenwich Village connected the two in 1969, sowing the seeds of what was to become Shakti. "There wasn't a first meeting," Hussain recalls today. "It felt like a reunion of long-lost brothers…"
In 1973, McLaughlin stunned the music industry by walking away from the Olympian popularity and acclaim of his pioneering jazz/rock ensemble, the Mahavishnu Orchestra. Something else was calling out to him—a music that reflected his evolving spiritual practice while feeding his insatiable hunger to converse, communicate, and explore.
With Hussain, violinist Shankar, and ghatam player T.H. "Vikku" Vinayakram, McLaughlin founded Shakti. "For me," McLaughlin reflects, "it was an imperative that Shakti become my permanent group after the Mahavishnu Orchestra." Together they honed an ecstatic new fusion, blazing uncharted pathways and demonstrating the potential of such global composites to generations of musicians around the world.
Now McLaughlin and Hussain are preparing to resume their journey—joined by the brilliant vocalist Shankar Mahadevan, percussionist V. Selvaganesh (T.H. Vinayakram's son), and violinist Ganesh Rajagopalan—for an album of new compositions and a world tour marking Shakti's 50th anniversary.
Today's Shakti honors the legacy of the original band by acknowledging their tradition while continuing to push beyond existing boundaries into new musical landscapes. "It's really a thrill," McLaughlin says of Shakti's 50th anniversary plans. "I'm delighted to be part of this marvelous tradition of the Shakti group."