Saturday September 24, 2022 at 7:00 pm CST
Bates Recital Hall, 2406 Robert Dedman Dr, Austin, TX 78712 Directions
Please purchase tickets using the link below. ICMCA does not email or mail physical tickets to you after you make the purchase. Please stop at the ticket desk or ICMCA main desk 15-20 minutes before the start of the concert and we will hand your tickets to you.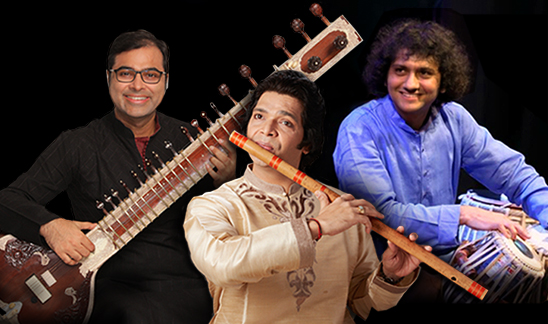 Shri. Purbayan Chatterjee is an Indian sitar maestro who is noted for amalgamating traditional classical music with contemporary world music genres. Shri Chatterjee's music follows the Senia Maihar gharana founded by Baba Allauddin Khan. His gurus are his father Pt. Parthapratim Chatterjee, Ustad Ali Akbar Khan, and Pt. Anindo Chatterjee. He has performed as a solo artist and as a part of the groups Shastriya Syndicate and Stringstruck. Interestingly, he is also a vocalist, trained by Pt. Ajay Chakraborty, and has performed in duet with Shankar Mahadevan.
Shri. Rakesh Chaurasia, a supremely talented flautist, is the nephew and child prodigy of maestro Pandit Hariprasad Chaurasia. While staying true to the purity of Hindusthani musical traditions of the bansuri (Indian wooden flute), Shri. Chaurasia has nevertheless infused it with his personal creativity and evolved a style that is both deeply melodic and energetic.
Shri. Ojas Adhiya, a widely acclaimed and immensely talented tabla player, has accompanied some of the greatest Hindustani vocal and instrumental artists of our time. He is able to both elevate the artists' renderings with skillful soft accompaniment and deliver bold solo intervals during concerts.