NAGA MANDALA (Dance Solo) followed by
ABHA Bharatanatyam Dance Ballet
Saturday, August 19th 2023 – 7:00 PM
Westlake Performing Arts Center, 4100 Westbank Drive Austin TX 78746
Austin Dance Workshop: August 17, 18 and 20
Punyah Dance Company is offering a intermediate/advanced level 3-Day Dance Workshop on Thursday August 17th, Friday August 18th and Sunday August 20th. The workshop will be organized and conducted by the Punyah Dance Company for a fee of $360 for all three days.
Workshop timings: Thursday Aug 17th (6 – 9pm), Friday Aug 18th (6 – 9pm) and Sunday Aug 20th (8:30 – 11:30am). The venue is to be decided. All workshop registrants will receive one free ticket ($50 Zone A seat) for the ABHA performance on Saturday, August 19th.
To register for the workshop, please use the link below: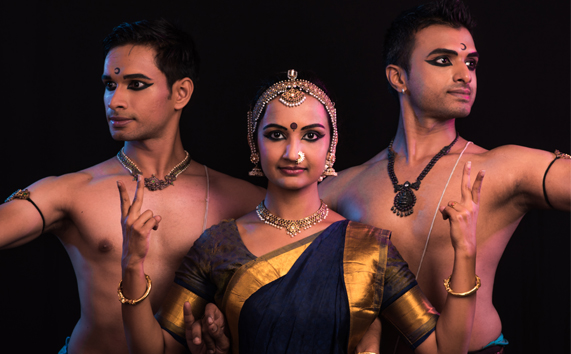 PARSHWANATH UPADHYE & PUNYAH DANCE COMPANY
The Bengaluru-based Punyah Dance comprising Adithya PV, Parshwanath S Upadhye and Shruti Gopal present a fascinating set of dance pieces showcasing two very different schools, styles and themes.
The Program begins with "NAGA MANDALA", a 50-minute solo performance by Shri. Parshwanath-ji. In the Karnataka folk style of Gigi Pada, the dancer becomes the narrator and the actor and tells the story of a woman who spurned by the disinterest of her husband, searches for a potion that would bring him back to her. The potion accidently falls on an anthill and the serpent (naga) living within falls in love with her and treats her as a queen. Does she stay with him or go back to her husband as society demands?? Punyah brings its trademark full bodied magical style – a flower caught in a beam of golden light, fingers twirling in an ephemeral glow, sinuous arms and torso metamorphosing into the Naga. Here, bodies dance singly or come together to give flesh to what relationships look and feel like. Naga Mandala is written by Shri. Girish Karnad.
Next, the Bengaluru-based Punyah Dance company presents the Bharatanatyam Dance Ballet "ABHA" – a re-telling of the Hindu epic Ramayana, with recorded voice and instrumental orchestra. ABHA doesn't follow the conventional way of storytelling. The production incorporates pieces such as varnam, padam and thillana, resembling a margam with each expounding certain segments from the Ramayana. Although the segments do not tell the story in sequential order, when presented all together it is an intriguing finished puzzle.
The elements of this story are familiar to most audiences, so Punyah focuses on distinctive moments and sentiments. The choreography is a strong point throughout the recital, and the trio presents it with precision and coordination. Both Parshwanath and Adithya bring in lot of masculine energy and Sruti dances to her strength in emphasizing the feminine aspects.  There are instances of beautiful imaginative sequences that further embellish the narrative of the Ramayana. Altogether – a vibrant performance.